The Everest Base Camp trek is a dream adventure for many nature enthusiasts, hikers, and thrill-seekers. Embarking on this incredible journey offers a chance to witness breathtaking landscapes, conquer challenges, and experience the unique Sherpa culture. This SEO-optimized long-form article aims to guide you through the wonders of the Everest Base Camp trek, providing valuable information and tips that will make your journey unforgettable and help you outrank other websites on Google.
Preparing for the Expedition
Physical Fitness and Mental Preparedness
Before taking on the Everest Base Camp trek, it's essential to assess your physical fitness and mental preparedness. The trek involves long and strenuous walks at high altitudes, so engaging in regular cardiovascular exercises and strength training is crucial. Additionally, developing a positive mindset and mental resilience will help you face the challenges that come with high-altitude trekking.
Packing Smart and Light
Packing efficiently is the key to an enjoyable trek. Prioritize essential items such as quality trekking boots, weather-appropriate clothing, a sturdy backpack, sleeping bag, and personal care products. Avoid overpacking and focus on carrying the necessities to reduce the strain on your journey.
Acclimatization
Acclimatization is vital when trekking to high altitudes. To minimize the risk of altitude sickness, plan rest days during your trek to allow your body to adjust to the thinning air. Stay hydrated, avoid alcohol and smoking, and listen to your body's signals during the journey.
Departing on the Adventure
Lukla to Phakding: The Gateway Begins
Your journey to Everest Base Camp starts with a thrilling flight from Kathmandu to Lukla, a tiny mountain airstrip. From Lukla, you'll trek to Phakding, where you'll get your first glimpse of the majestic Khumbu region. The Dudh Koshi River accompanies you on this scenic path.
Namche Bazaar: Gateway to the Khumbu
Namche Bazaar is a bustling Sherpa town, and a crucial acclimatization stop. Surrounded by towering peaks, Namche offers breathtaking views and a chance to explore the local culture. Don't miss the vibrant weekly market where you can buy souvenirs and interact with the friendly locals.
Tengboche: A Spiritual Haven
The Tengboche Monastery is a significant cultural landmark on the trek. Surrounded by stunning panoramic views, this spiritual haven provides trekkers with an opportunity to take a moment for introspection and immerse themselves in the tranquility of the mountains.
Dingboche: The Summer Valley
Dingboche is a picturesque village with a unique landscape that transforms into a summer pasture. Here, you'll experience the beauty of the Imja Khola Valley and enjoy the breathtaking vistas of Ama Dablam, Lhotse, and Island Peak.
Lobuche and Gorak Shep: Nearing the Summit
As you ascend further, the air gets thinner, but the allure of the Everest Base Camp grows stronger. Lobuche and Gorak Shep are the last stops before reaching the base camp. The frozen lakebed of Gorak Shep offers a surreal experience and a sneak peek of the mighty Everest.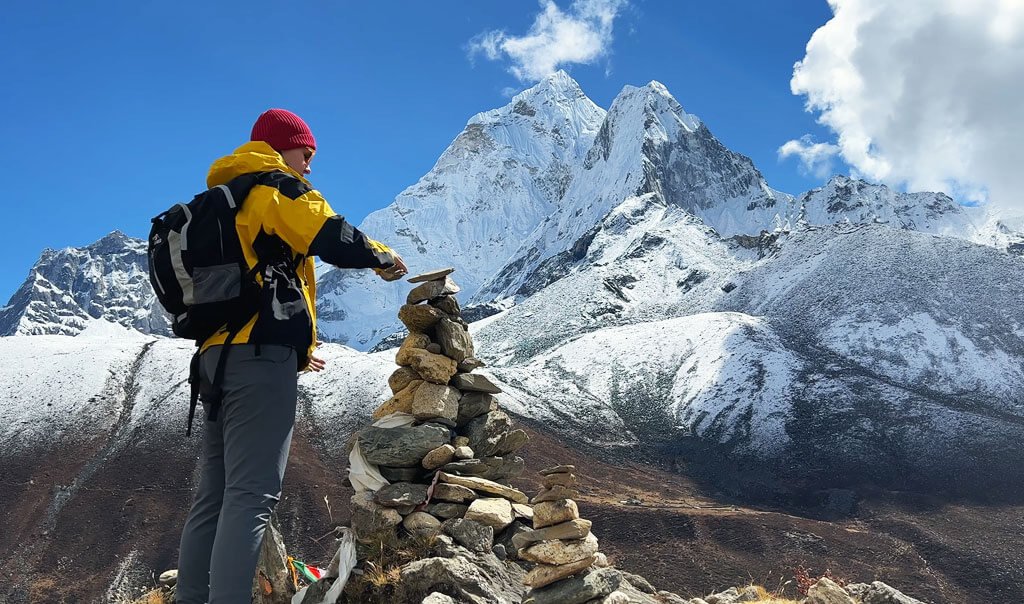 Conquering Everest Base Camp
Everest Base Camp: The Ultimate Achievement
Reaching Everest Base Camp is a moment of triumph and awe. Surrounded by towering peaks, you'll stand at the foot of the world's tallest mountain. Witnessing the sheer grandeur of Mount Everest up close is a memory that will stay with you forever.
Kalapatthar: Touching the Sky
For an even more spectacular view of Everest, hike up to Kalapatthar. This vantage point offers an unparalleled panorama of Everest, Nuptse, Pumori, and other Himalayan giants. The golden sunrise on the snow-capped peaks is an ethereal sight to behold.
Embracing the Experience
Immersing in Sherpa Culture
Throughout your journey, you'll have the opportunity to interact with the warm and hospitable Sherpa community. Embrace their unique culture, savor local delicacies, and learn about their spiritual practices. Respect the local customs and traditions to make the most of your experience.
Capturing Memories and Sharing Stories
Carry a camera to capture the breathtaking landscapes and memorable encounters. Sharing your experiences with friends and family is a great way to relive the adventure and inspire others to embark on their own Everest Base Camp trek.
Conclusion
The Everest Base Camp trek is a once-in-a-lifetime adventure that offers a perfect blend of natural beauty, cultural exploration, and personal achievement. By preparing well, trekking responsibly, and embracing the experience, you'll create memories that will last a lifetime. So lace up your boots, pack your bags, and set off on this unforgettable journey to the roof of the world.
FAQs
Is the Everest Base Camp trek suitable for beginners?
The Everest Base Camp trek is challenging and requires a good level of physical fitness. While it is possible for beginners to undertake this trek with proper preparation and training, it is recommended that individuals have some prior hiking experience and consult with a medical professional before attempting the journey.
What is the best time of year to do the Everest Base Camp trek?
The best time to trek to Everest Base Camp is during the pre-monsoon (spring) and post-monsoon (autumn) seasons, from March to May and September to November. These months offer stable weather conditions, clear skies, and moderate temperatures, making it ideal for a successful and enjoyable trek.
Are there any age restrictions for the Everest Base Camp trek?
There are no specific age restrictions for the trek. However, individuals should be in good health and physical condition to undertake this challenging journey. It's essential to consult with a medical professional before planning the trek, especially for older trekkers or those with pre-existing health conditions.